Composite stable doors are visually interesting and no longer just used at farms and in horse stables because householders have realised just how practical they are. Ours aren't just your ordinary stable doors though. They're made using the finest modern materials and rank amongst the best stable doors in the Worcestershire and surrounding areas.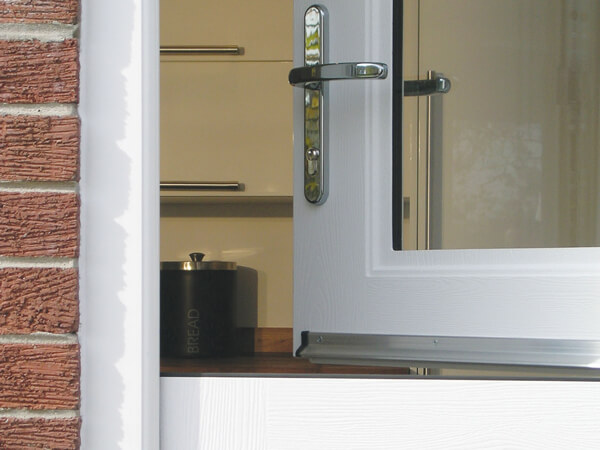 Because the door is horizontally split in two, it enables you to have one part open and the other kept closed. The benefit of that is that it gives you the option of opening the top half and leaving the bottom half shut, so that you can keep your children safe inside.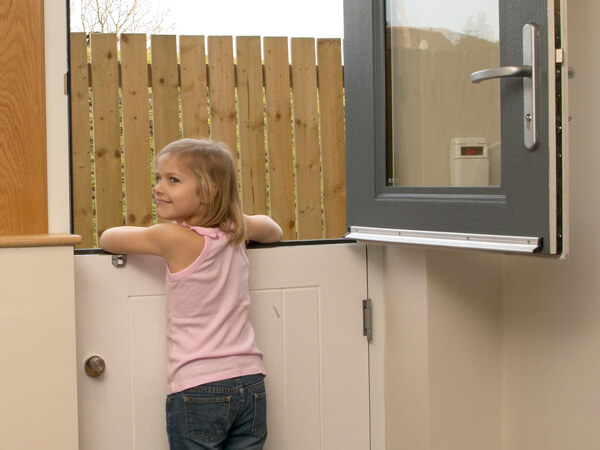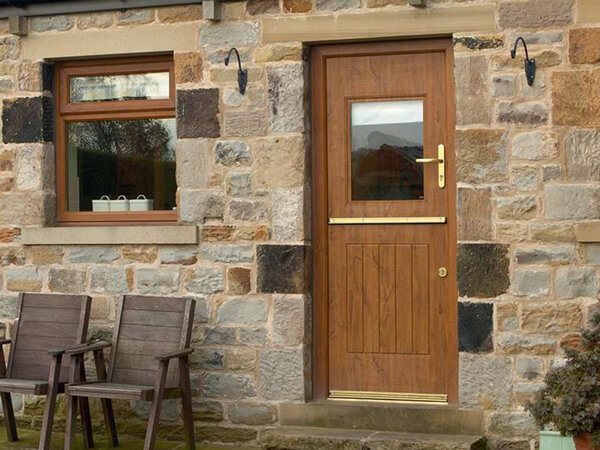 Composite door features at a glance...
It is reassuringly heavy and thick, yet incredibly easy to open and close. The sound of the door latch meeting the high security locking mechanism on the door frame inspires confidence and reminds you why you opted for a Composite Door.
Clicking on the hotspots opposite will give you more of an insight into each of the main features of a composite door from 5 Star.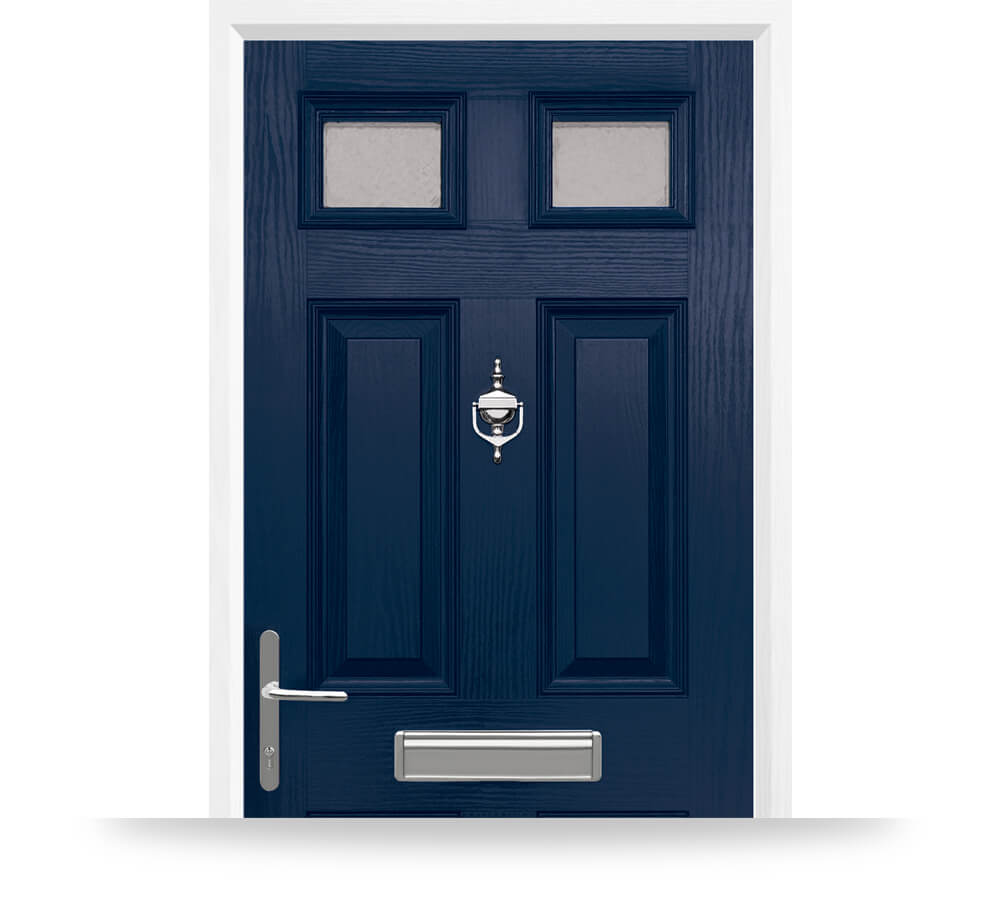 Frontline Security
High-security multi point lock which engages automatically upon closing so no need to lift the handle to engage your door, which means no more draughts or cold spots.
Frontline Hardware
Our Frontline Composite Doors come with a range of hardware including letterboxes, knockers and handles in a variety of colours to suit your home, they're built to last with robust materials and quality finishes.
Frontline Hinges
Anti-crowbar technology that delivers ultimate strength. Horizontal and vertical adjustment that results in 360-degree compression on seals for weather tightness.
Frontline Glazing
Available with a wide range of glazing styles, including obscure and decorative glass.
You'll struggle to find a more secure composite door...
Behind every great front or back door is a reliable locking mechanism and a sturdy framing system as its primary purpose should be to always protect your home to the fullest.
You couldn't wish to find a more secure door solution than the composite door which is so-called as it comprises many different materials meshed together to create one phenomenally tough design. When firmly locked shut, you can be safe in the knowledge that your home is fully protected.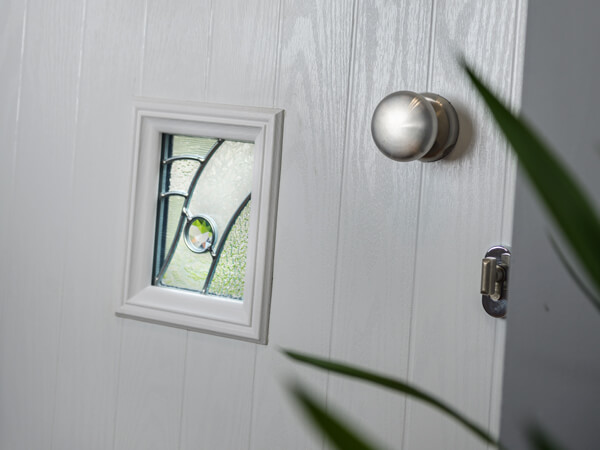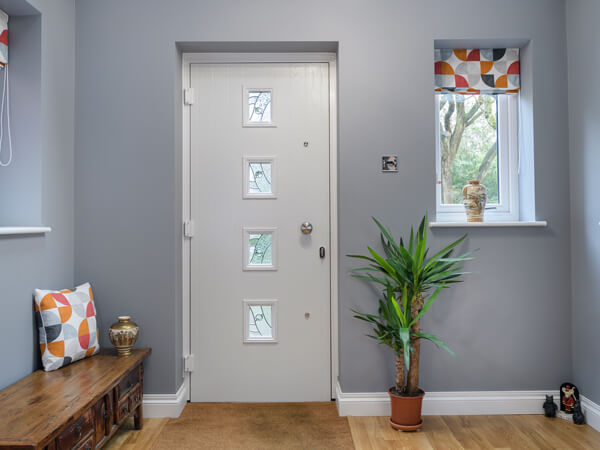 PERSONALISE YOUR COMPOSITE DOOR
Our composite doors are made to last, so you will be living with yours for a very long time. Mindful of that, it is important that you select a design and door colour that's exactly to your taste. That shouldn't be a problem as we have a fantastic selection of colours, glazing and hardware. If you could do with some assistance, you can always ask the opinion of the 5 Star consultant while using our door-designing technology.
Composites of every type of colour...
Conventional composite colours such as white, black, red and blue will never go out of fashion so for those wanting an ageless composite door, look no further than any of these finishes. We do like to think outside of the box here at 5 Star though so in addition to traditional favourites we also offer a selection of contemporary classics including grey and Chartwell Green. Not forgetting the oak and darkwood finishes we also provide which boast all the hallmark details of a wooden door, minus the maintenance.
Make a statement with the handle
We don't just go to extraordinary lengths with the design of our composite doors. We also do the same with the handles for our composite door solutions, so they make for a smart addition.
Our suite of handles is wonderfully eclectic and includes many straightforward offerings, as well as some quirky and out-of-the-box options. They ensure our composites don't go unnoticed.
Complete your composite with some fashionable hardware...
A composite door needs to be properly accessorised with some stylish hardware not just for aesthetic reasons, but to also ensure that it provides the reliability and security you expect of a contemporary door. Hinges and handles are an absolute given, as is an elegant letterbox, number plating and knocker. Behind every pretty composite door is a haul of hardware solutions.
NEED MORE INSPIRATION? REQUEST A BROCHURE
Simply select the brochure(s) you would like to browse, fill in your details, and then click 'Download'.
Step 1 - Please select the brochure(s) you would like:
OUR FINANCE CALCULATOR
See how affordable your home improvement can be with our Finance Calculator.
INSPIRED? GET A FREE QUOTE TODAY!
Simply fill in your details for your free, no obligation quotation, and click "Get Quote"
Want to speak with an Advisor? Give us a call on 01562 60800
Our friendly team will be pleased to help with any questions you may have.