Bi-folding doors are a remarkable addition to any home, offering a multitude of benefits:
Maximise Natural Light: Embrace the sun's warmth and illuminate your interiors with the expansive glass panels of our bi-folding doors.

Seamless Indoor-Outdoor Connection: Create a seamless transition between your interior living spaces and the outdoors.

Enhanced Ventilation: Enjoy enhanced airflow and ventilation, allowing fresh air to circulate freely.

Unparalleled Views: Expand your vistas and enjoy unobstructed views of your garden.

Energy Efficiency: Our bi-folding doors are designed with energy efficiency in mind, helping to regulate your home's temperature and reduce energy costs.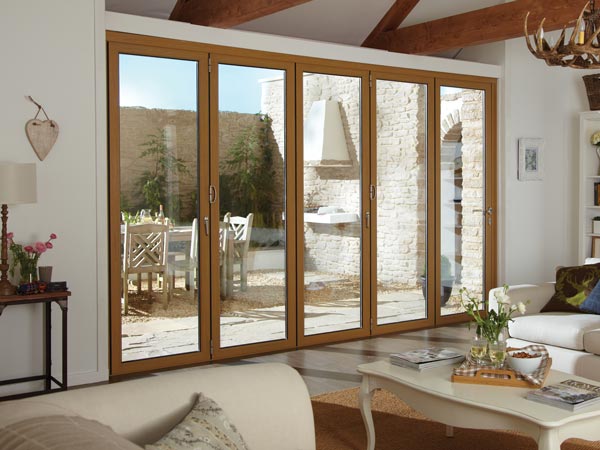 For those seeking innovation, we're proud to reveal our most technologically advanced bi-folding doors yet. 5 Star's state-of-the-art hardware will ensure maximum security is provided by these doors while remaining light and easy to operate. Within the design is a super-strength that ensures your home is safe and secure.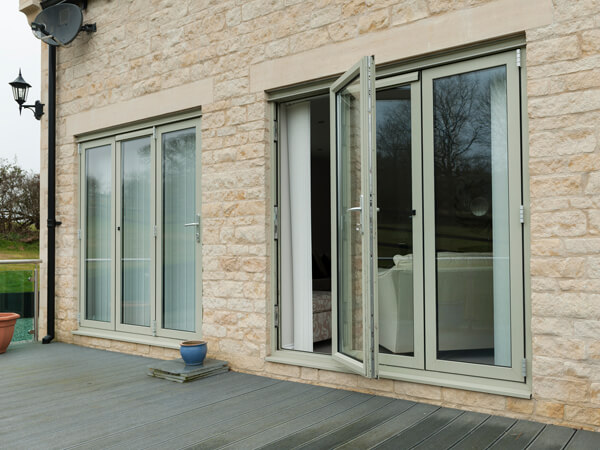 By discretely folding to the side, you can fully open our bi-folding doors, allowing you unrestricted access to your patio area or garden. Our bi-folding doors, when closed, create a glass wall effect that allows a greater amount of light into your home, allowing you to gain more enjoyment from your garden whatever the weather.
Expert Installation and Maintenance:
Our team of experienced professionals at 5 Star Windows Kidderminster will ensure the seamless installation of your bi-folding doors, providing expert guidance and ensuring a perfect fit. We also offer comprehensive after services to keep your doors functioning smoothly and looking their best for years to come.
All 5 Star's bi folding doors come with our 20 Year guarantee backed by an additional insurance backed guarantee issued by the CPA the Consumer Porotection Association.
A Style for Every Home:
At 5 Star Windows, we understand that every home has its own unique style. That's why we offer a wide selection of bi-folding doors to complement any design:
Traditional: Embrace the elegance of traditional bi-folding doors, featuring intricate detailing and classic finishes.
Contemporary: Modernise your home with sleek, minimalist bi-folding doors that exude a contemporary aesthetic.
Rustic: Create a warm and inviting ambiance with rustic bi-folding doors, showcasing natural wood finishes and traditional craftsmanship.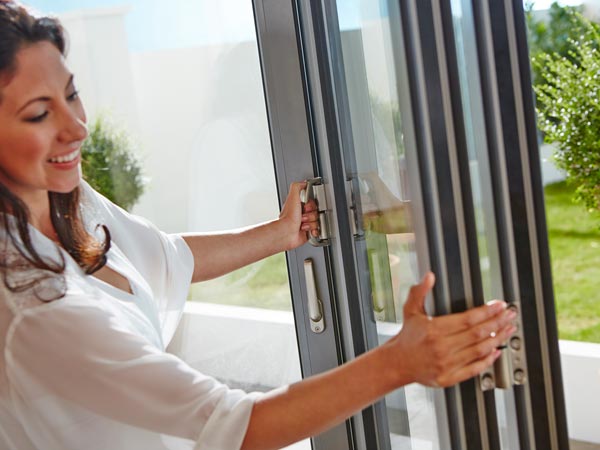 Bi-Folding Doors
It only takes the gentlest of pushes and the minimum of effort to get our lightweight bi-folding doors on the move along the smooth runner. Your home will be transformed by it.
If you'd like to know more about our aluminium bi-folding doors, just click on the different hotspots opposite.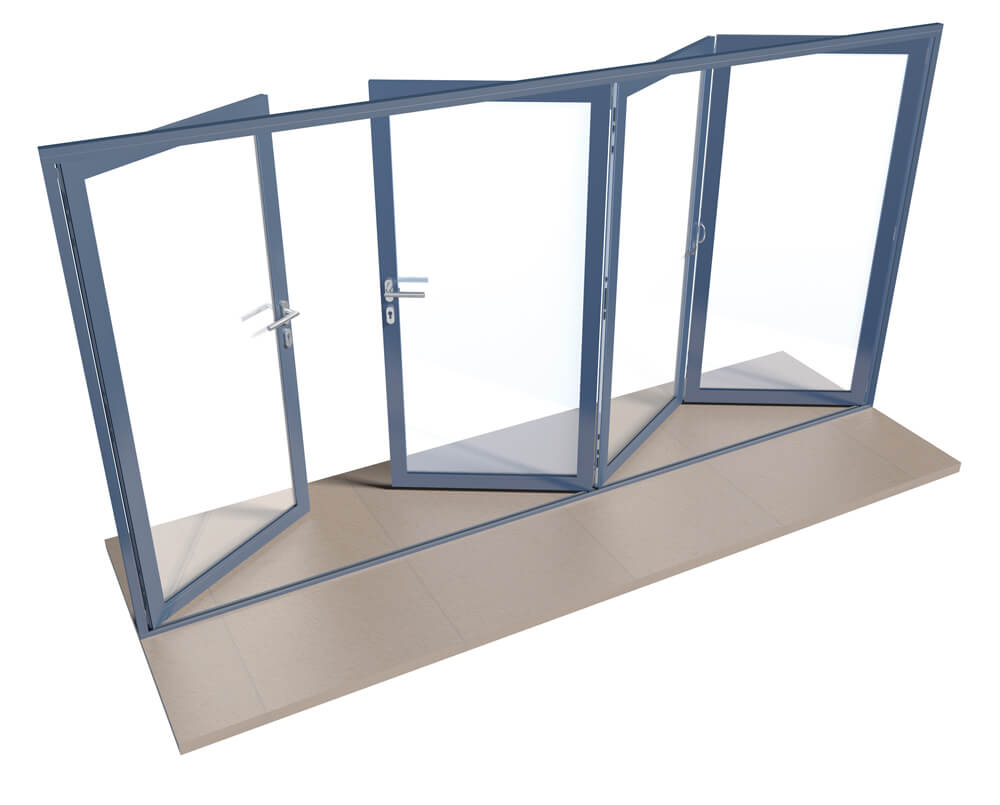 Bi-Folding Doors Frame
Our Bi-Folding doors frame boast maximum warmth and security and slide effortlessly to the side to make the most of your space. You can even incorporate a discreet passenger door for everyday entry.
Bi-Folding doors hardware
Our Bi-Folding Doors Handles come in a range of colours to suit your home, they're built to last with robust materials and quality finishes.
Bi-Folding doors Easy Glide System
The sliding operation of a bi-folding door relies on a high-quality stainless-steel track on which quad rollers, which are fitted to the door leafs, glide along in elegant fashion. The same quad rollers are fitted with a small brush on one end to keep the tracks free of dust and dirt.
Bi-Folding Doors Low Threshold
Low level thresholds increase the ease of access for everyone involved. An optional outer and inner ramp can be added on to the threshold to further enhance the accessibility for wheelchair users.
Bi-Folding doors opening direction
Choose how your doors open and the direction they fold in.
Bi-Folding doors to your specification
Consider the colour of your hinges, gaskets and running gear.
Bi-Folding doors choosing the number of doors
How many individual doors you want in your configuration, each door can be up to 1.2 meters wide.
Style does not come at the expense of security
A multi-point locking system is at the heart of the security of a bi-folding door. When the lock is engaged, it does so at several different points, in several different directions, and into robust lock keeps ensuring that the door sash is firmly fixed into the door frame.
The double glazed or triple glazed units used to glaze the bi folding doors are inherently very strong and tough to break, designed to keep you and your home secure these bi-folding doors are as secure as possible. Tested cylinder locks are housed by high security master handles to deter and resist would-be intruders.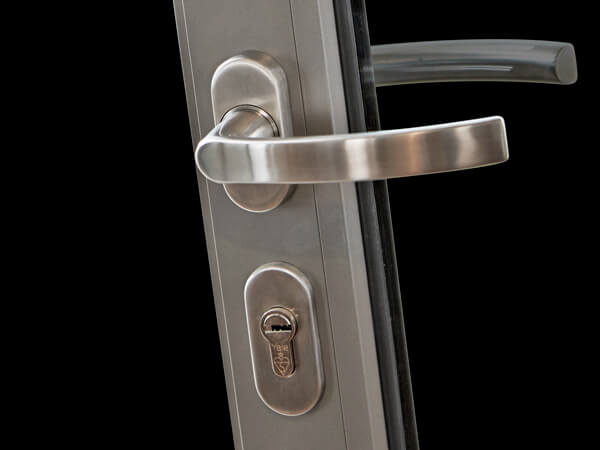 COMPLETE THE DESIGN IN STYLE
As soon as you have informed the consultant of the coloured finish you want and the hardware for the design, work will begin on creating your aluminium bi-folding doors.
Bi-folding doors can be made with as few as two panes.
With all bi-folding doors, configurations can be manufactured in arrange of sizes, colours and configurations. This minimalist style of bi-fold door could be used internally to connect a room with an orangery or conservatory, or you go choose from our 7 panel bi-fold door to create a large opening to your garden.
Add to the wow factor of Eclipse bi-folding doors with your choice of colour...
Our standard colour palette for bi-fold doors includes three extremely popular and timeless options: gloss white, matt grey and matt black. Grey is a firm favourite for homeowners investing in bi-fold doors – it is sophisticated and contemporary, therefore complementing the sleek operation of the product.
A much broader selection is available but the common denominator of all our colour options is a low maintenance, durable finish that will retain its appeal for years to come.
The handles are an integral part of any bi-folding door...
Contemporary Handles - Our contemporary, two-part handles owe their styling to both the brushed steel finish which is the epitome of sophistication, and a separate escutcheon plate which encases the cylinder lock. Three variations of this handle are available, each one intricately and ergonomically different to the next. Suited brushed steel intermediate and D-handles are the automatic choice if you opt for a contemporary master handle.
Traditional Handles - Traditional all-in-one handles are understated, unfussy and available in chrome, gold, black and white which is particularly useful if you wish to match the hardware used on your bi-fold door with the hardware used your windows and other doors in your house. Again, colour matched intermediate, and D-handles are available in chrome, gold, black and white so that the various panes of your bi-fold door are in harmony with one another.
NEED MORE INSPIRATION? REQUEST A BROCHURE
Simply select the brochure(s) you would like to browse, fill in your details, and then click 'Download'.
Step 1 - Please select the brochure(s) you would like:
OUR FINANCE CALCULATOR
See how affordable your home improvement can be with our Finance Calculator.
Experience the Difference:
Step into a world of enhanced living with bi-folding doors from 5 Star Windows. Our doors are crafted with superior aluminium and meticulous attention to detail, ensuring exceptional performance and long lasting beauty. Contact us today or visit one of our showrooms in Kidderminster or Worcester to discuss your bi-folding door requirements and let us transform your living spaces into havens of light, openness, and connection to the outdoors.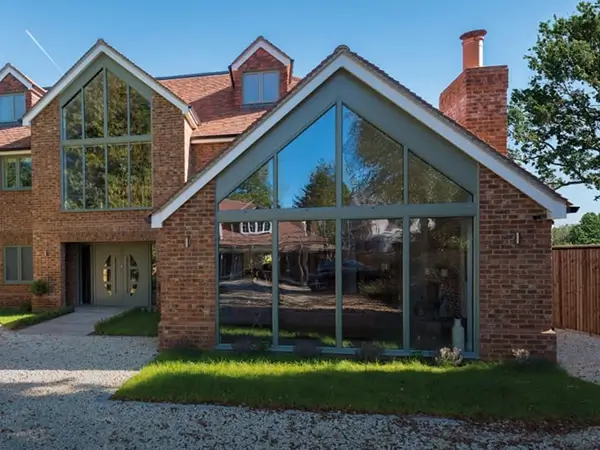 INSPIRED? GET A FREE QUOTE TODAY!
Simply fill in your details for your free, no obligation quotation, and click "Get Quote"
Want to speak with an Advisor? Give us a call on 01562 60800
Our friendly team will be pleased to help with any questions you may have.