VERANDAS, PERGOLAS & GLASS EXTENSIONS
The Weinor Glass-housen – simple elegance, extraordinarily bright!
FIND OUT MORE
Weinor Glass-housen
Transports your garden into your home and your home into your garden! The extraordinarily bright weinor Glass-housen offers you the smoothest transition from outside to inside. Described simply it's a Terrazza patio roof with ultra-flexible all-glass elements which can be closed to form an uninsulated conservatory. The flexible and fixed-glazed side, all-glass elements, allow for numerous combinations.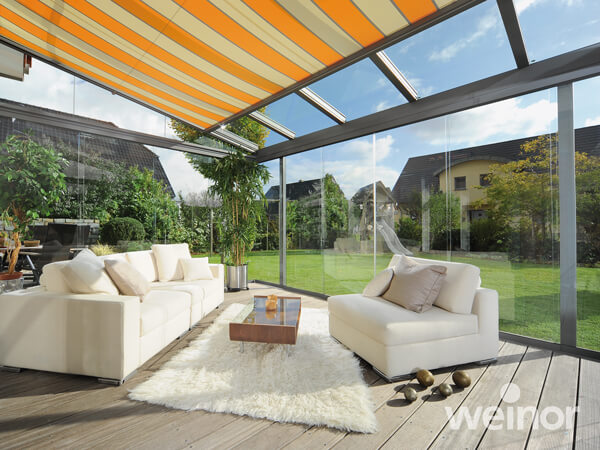 Flooded with light...
Key benefits of choosing a Glass Extension for your property include:
Stay outside longer
provides protection from the wind and rain
cold and dark becomes warm and bright
Inside shadowing: perfect glare-protection and a pleasant atmosphere keeps the heat outside in the summer
Stunningly good looking
Super sturdy aluminium construction – triple safety-tested, Weinor patio roofs are the pinnacle of stability and durability. These constructions are based on static calculations run by a certified German engineering company.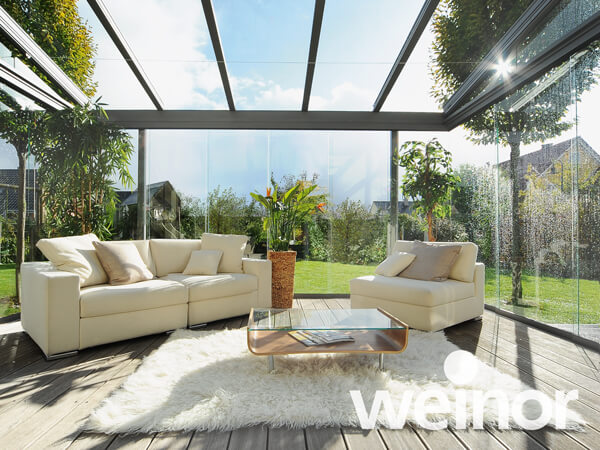 Simple idea executed beautifully… to experience life al fresco.
Terrazza Originale, Terrazza Extra and Terrazza Plus, three patio roofs to keep you sheltered from the elements. Your patio furniture can be kept outside without being damaged. Elegant construction, high durability appealing design in numerous versions. So versatile it fits almost anywhere, complimenting any home. A LED design bar lets you use your patio roof long into the evening. The light bars can be wall-mounted or fitted to a roof support. Quality German aluminium construction – tested three times for safety, Weinor patio roofs are ultra-safe and durability. These patio roofs are based on static calculations run by a certified German engineering company.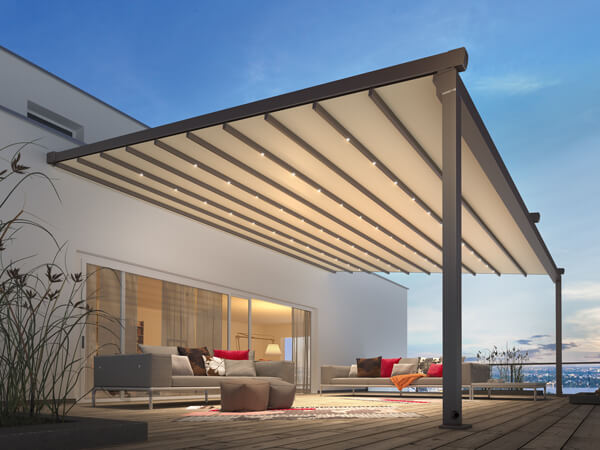 Awnings from Weinor – Presume nothing... prepare to be amazed!
A fantastic range of fabric awnings cleverly created to compliment every location, for every reason including sun shade, weather protection, entry statement, storage cover and so much more. Supported and unsupported designs, even with sides, in the widest choice of styles, materials and finishes gives a usable and attractive addition to any location.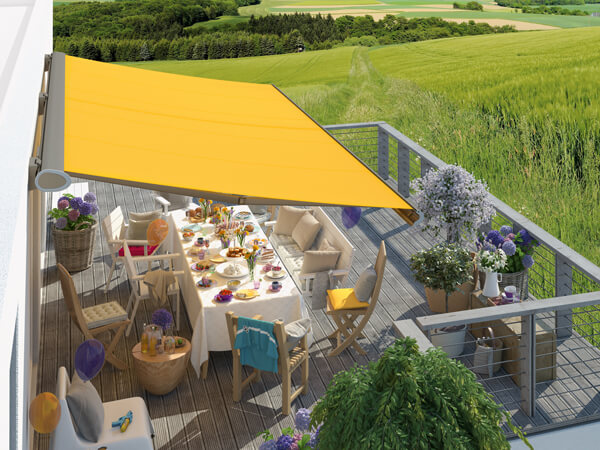 NEED MORE INSPIRATION? REQUEST A BROCHURE
Simply select the brochure(s) you would like to browse, fill in your details, and then click 'Download'.
Step 1 - Please select the brochure(s) you would like:
OUR FINANCE CALCULATOR
See how affordable your home improvement can be with our Finance Calculator.
FIND OUT MORE ON OUTDOOR LIVING RANGE?
Simply fill in your details for a 5 star customer advisor to get in touch about your interest, and click "Get In Touch"
Want to speak with an Advisor? Give us a call on 01562 60800
Our friendly team will be pleased to help with any questions you may have.