LIVING SPACES.
Growing your home with extraordinary living spaces – anything is possible with 5 Star!
GET A FREE QUOTE
PERFECT LIVING SPACES
As families grow and your needs change wouldn't it be wonderful if your home could grow too? Moving is so expensive, and with the children settled in schools and friends nearby, why would you want to move? Instead explore the brilliant living spaces 5 Star create.
.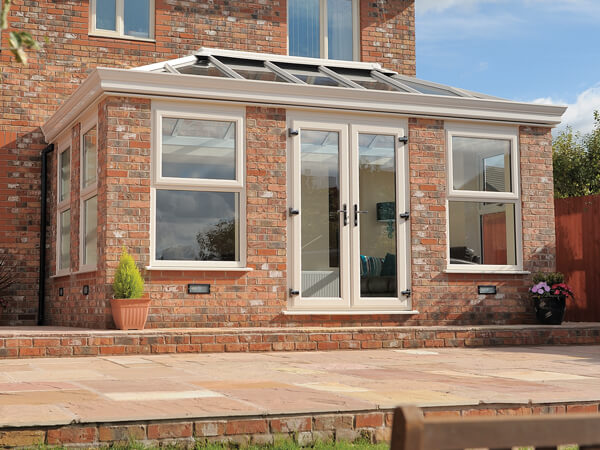 CONSERVATORY LIVING SPACES
Designed together then created by 5 Star to meet your needs and enhance your home, a comfortable bright new room to enjoy. Our contemporary conservatories are super secure, cooler in summer and warmer in winter. They can become a fantastic living spaces.
VIEW RANGE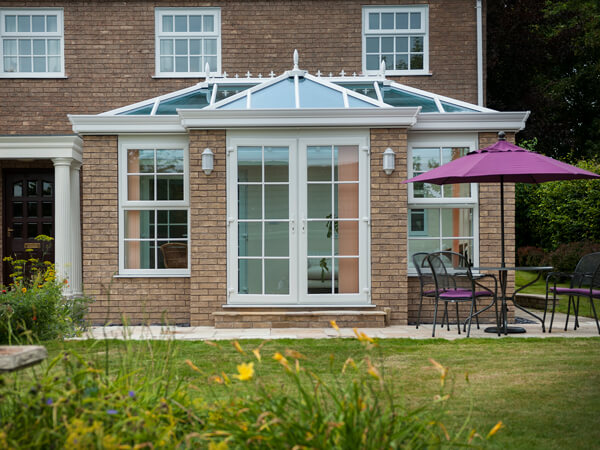 ORANGERY LIVING SPACES
A bold and elegant continuation of your existing living space, we can remove walls to create the open plan living spaces of today, or we can even create a new standalone orangery for your home.
VIEW RANGE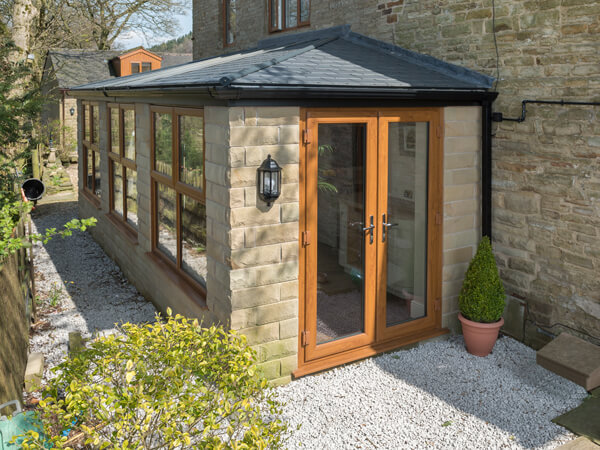 EXTENSIONS - Perfect Living Spaces
We create home extensions for every purpose, simply ask 5 Star what you need, and we'll do the rest, including initial drawings, planning permission, building reg's and then remotely project managed by the 5 Star Operations team to completion!
VIEW RANGE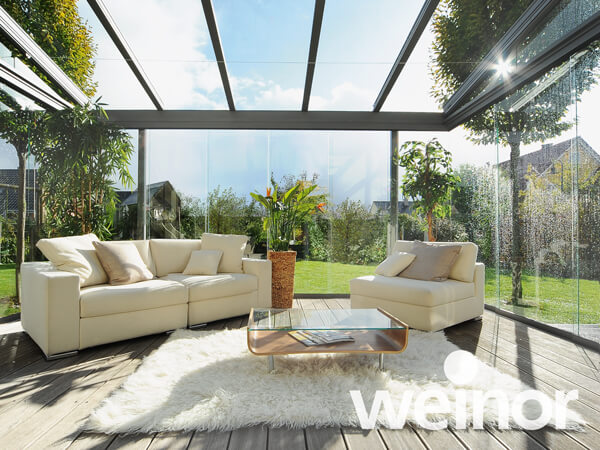 GLASS EXTENSIONS - Alternative Living Spaces
Architecturally stunning additional living spaces by Weinor that is totally made from heavy duty glass, to bring outdoor living inside!  Bespoke designed to your shape and size requirements this luxury flexible system has sliding doors and many special extras – add a woodburner and sheepskin rug for that Scandi chic!
VIEW RANGE
superb new living spaces
Home working has become far more common and additional home office space is much sought after. When you think about it, extending is far less stressful than moving, particularly when you have 5 Star doing the hard work of managing and creating your new living spaces. Once it's done and dusted, you can spread out into your wonderful light and spacious home – entertain guests, have a separate play area for the kids, enjoy home working from a new office, or just enjoy the simple pleasure and peace of your garden from the comfort of your superb new living spaces.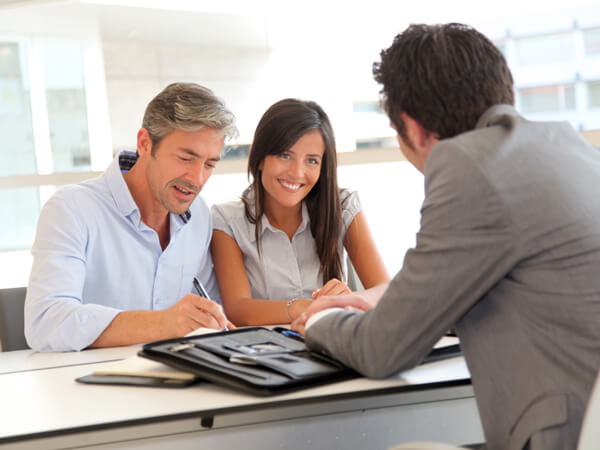 PLANS, PLANNING PERMISSION AND BUILDING REGS.
If you're thinking about living spaces then please do visit a 5 Star showroom, where you will find endless inspiration – we have created many real full-sized extensions, conservatories, and orangeries all fully furnished for you to examine and picture at your own house.
We also have roof systems that are so flexible and advanced you will be amazed at how we could transform your existing old conservatory.  Please feel free to make an appointment to talk to a 5 Star Designer, they have created hundreds of new living spaces, and do not worry about plans, planning permission and building reg's, we can take care of everything!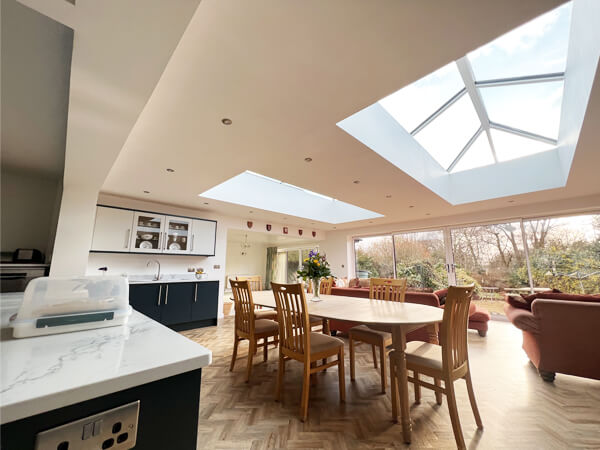 CONSERVATORY, ORANGERY OR HOUSE EXTENSION?
Every day, 5 Star create bespoke conservatories which are beautiful additions to any home and garden.  The more glass a conservatory has the more it becomes part of the garden.  All of the elements that go into making a modern conservatory are so much more technologically advanced than the old style ones, so you can enjoy using it all year round.  We have expert Designers to help, visit one of our amazing showrooms in Kidderminster or Worcester or make an appointment for one to visit your own home to explore your options.
HUP! LIVING SPACES FROM ULTRAFRAME - REVOLUTIONARY!
Ultraframe SIP, Structural Insulated panels, which are visually, when finished, more appealing than bricks, make living spaces –
five times more energy efficient than the average home.
Living spaces can be built five times faster and for the traditionalist can even look like brick!
And with this much energy efficiency, more glass can be used making living spaces brighter, warmer, and more inviting than ever before.
Think BUILD – THINK hup! Find out more here.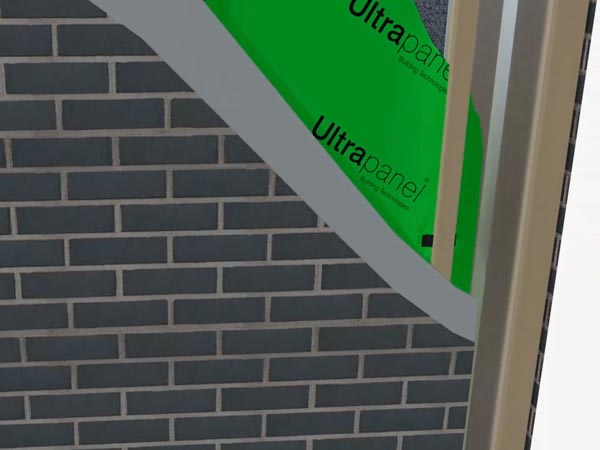 PERFECT LIVING SPACES.
If you are thinking you want more than a conservatory, then orangeries are a bit different. They are more built constructions and will blend in with your existing building style. Orangeries are also therefore warmer and more insulated than conservatories, with less glass, and the addition of a lantern roof and more brickwork.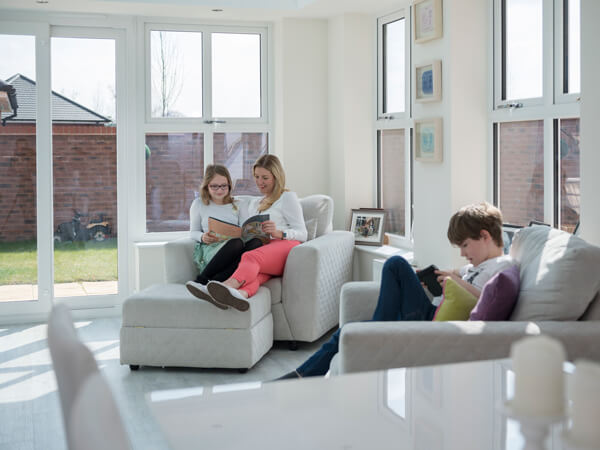 ANY PERPOSE LIVING SPACES.
5 Star living spaces will give your house new rooms for almost any purpose and can totally change how your home works for your family.  When 5 Star build living spaces, we often take out rear house walls, and walls between existing rooms to create open plan living spaces – rooms that look fantastic and give you a whole new way of living.
Remember that whatever you choose, 5 Star take all the hassle out the process by taking care of everything – we remotely project manage from start to finish.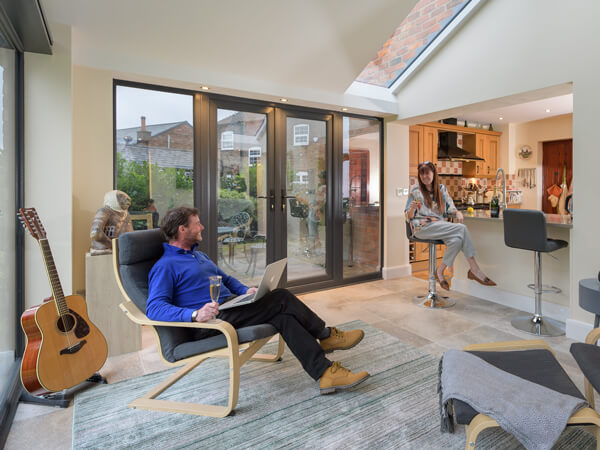 A NEW CONSERVATORY ROOF, DOORS, AND FRAMES
If you need to upgrade your conservatory or like the idea of having a new warmer solid roof then we can replace the doors, windows and replace the roof – in glass, roof tiles or the fantastic Ultraroof 380 that's a mega insulated, light weight, tiled roof with glass sections to give you the best of both worlds. We would need to do a test dig to ensure your existing base is good enough to carry the new sections forward for the next 20 years, but we normally find they are. Your new room would have the same footprint as the original conservatory, with more brickwork if desired, it would be noticeably warmer and become a room to use in all seasons.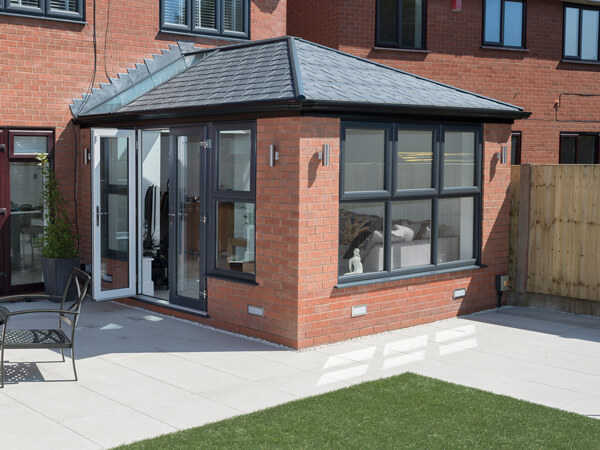 COMPOSITE CLADDING FROM ECOSCAPE
Some of our most modern, striking new living spaces feature eco-friendly, scratch and fade resistant Composite Cladding – we are Ecoscape installers.  This addition looks great and has a long-life guarantee. If you are starting from scratch or upgrading an existing living space, Ecoscape slatted cladding will give your building a wow factor you never thought possible.
FIND OUT MORE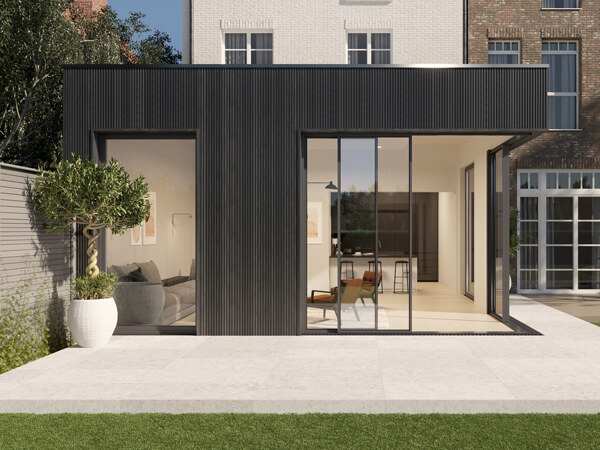 REQUEST YOUR FREE QUOTE
Complete our free quote form and you might win one of 10 - £50 Amazon vouchers, we are giving away every week running up till Christmas!
NEED MORE INSPIRATION? REQUEST A BROCHURE
Simply select the brochure(s) you would like to browse, fill in your details, and then click 'Download'.
Step 1 - Please select the brochure(s) you would like:
OUR FINANCE CALCULATOR
See how affordable your home improvement can be with our Finance Calculator.
Want to speak with an Advisor? Give us a call on 01562 60800
Our friendly team will be pleased to help with any questions you may have.