The 5 Star Windows Guide To Conservatories
According to the Cambridge Dictionary, a Conservatory is "a room with glass walls and a glass roof, usually connected to a house, used for growing plants or for relaxing in."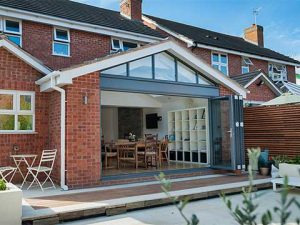 At 5 Star Windows, we pride ourselves in offering a plethora of beautiful high security, low maintenance Conservatories around Kidderminster, Worcester, Bromsgrove, Droitwich and throughout the West Midlands.
We look after the planning, guide you through designs, colours, locking and much more. Conservatories are the best way to add value to your home. We have nine styles to choose from, available in a choice of UPVC or Aluminium.
Our Classic conservatories are the perfect addition for anyone who enjoys the comfort of being at home. They offer space and value for money, as well as substance, due to vast improvements in the materials and components used in their construction. Predominantly glazed and often featuring a dwarf wall, our Edwardian, Victorian, Lean-to and Gable style variations, are a never-ending timeless favourite here at 5 Star Windows.
If you are looking for a more modern design, you can install an internal lighting pelmet. It makes your conservatory feel cosier, especially in the evenings. Add to the elegance by introducing an external cornice. Want a more contemporary look? Add coloured frames. This allows you to express your personality through your home extension. As well as this, French doors or bi-folding doors are a common element of a modern conservatory.
Finally, you can turn your vision into a reality with a made-to-measure bespoke conservatory design. Here at 5 Star Windows, you can choose a unique design for your home. They are ideal for people who have a very clear idea about what their dream home looks like. Whether you want to complement your current property or completely stand out from the rest, a bespoke conservatory is the perfect tailor made choice for you!
If you would like to discuss our range of conservatory designs and options, request a call back TODAY!