A Chip Off The Old Block!
The 20th of February 2017 saw the next generation of the Manser family join 5 Star Windows and Conservatories in Kidderminster.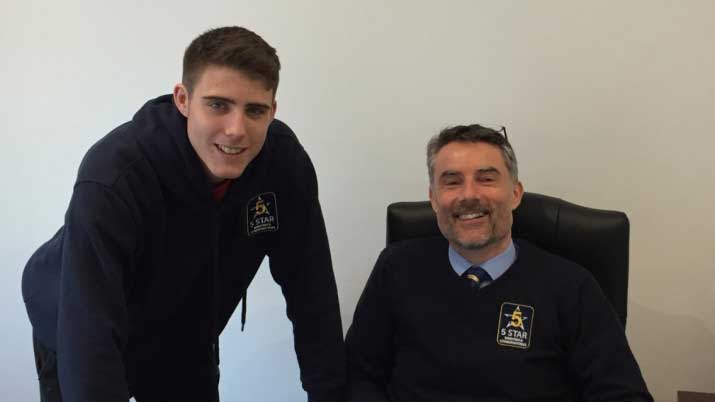 George will be the third Manser to join this great family business, following in the footsteps of his two uncles, Ross and Alan, both Senior Designers, and Richard, his father, Owner and Managing Director.
Though George is just 18 he's already got one eye set on the MD's chair – by the time he's 30 he tells us his dad can be Chairman!
This father and son team are planning a gruelling few years, as George works his way through each department within this £5,000,000 turnover business. George has launched his career, a working apprenticeship, in 5 Star's new Worcester Showroom where he's putting his digital skills to the test by creating a Weinor eShop for 5 Star's new Glass Extension Range.
George's leadership credentials can clearly be seen by his achieving of School Captain, School Champion and playing Golf at County level for both U16s and U18s. What's more he achieved Junior Club Captain, at his local Golf Club, when he was 16. Today, he plays off a Par 4, though he says he has little time for Golf with his growing work schedule.
George is also creative like his uncles and artistic. He enjoys playing base guitar and piano when relaxing…so he may be better off saving these hobbies for when he retires!