Half-Yearly Review Of 2017 Customer Installations
We can hardly believe that we have almost reached the mid-point of 2017, and what an amazing six months it has been for 5 Star Windows.
It got off to the best possible start in January when we unveiled our brand new state-of-the-art showroom in Worcester.
During the first half of the year we have also been fortunate enough to complete hundreds of installations throughout the region.
We thought it was a good time to give you a little round-up of some of these installations as they might give you inspiration for your own home.
January – Lean-To Sunroom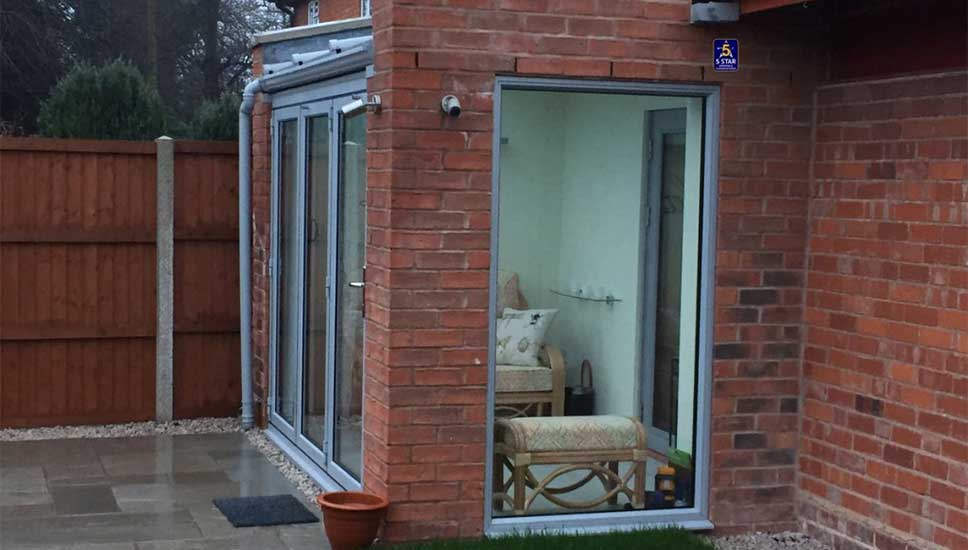 When left short of space in a bungalow or home with low eaves and there's very little room to extend, the Lean-To sunroom is a fantastic solution.
This contemporary Lean-To sunroom makes the most of every single inch of space and despite its compactness offers a surprising amount of roominess.
Equipped with an Ultraframe roof and aluminium windows, Origin bi-folding doors have also been incorporated into the design to supply a generous opening into the garden.
February – Irish Oak windows and doors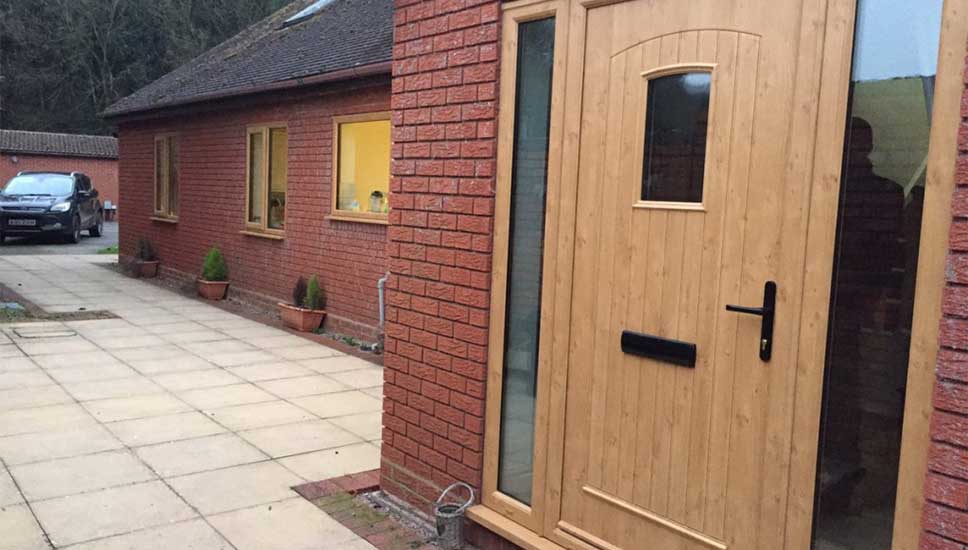 Authentic wooden windows and doors are hugely pleasing on the eye, but as they age they demand lots of upkeep to retain their aesthetic appeal.
These Irish Oak finished windows and door are seemingly crafted from timber because of how alike they are in appearance to timber, when in actual fact they're not.
Fitted in Stourport, they have given this smart modern bungalow a fabulous facelift fit for the 21st Century and made it more secure and energy efficient.
March – Aluminium Bi-Folding Doors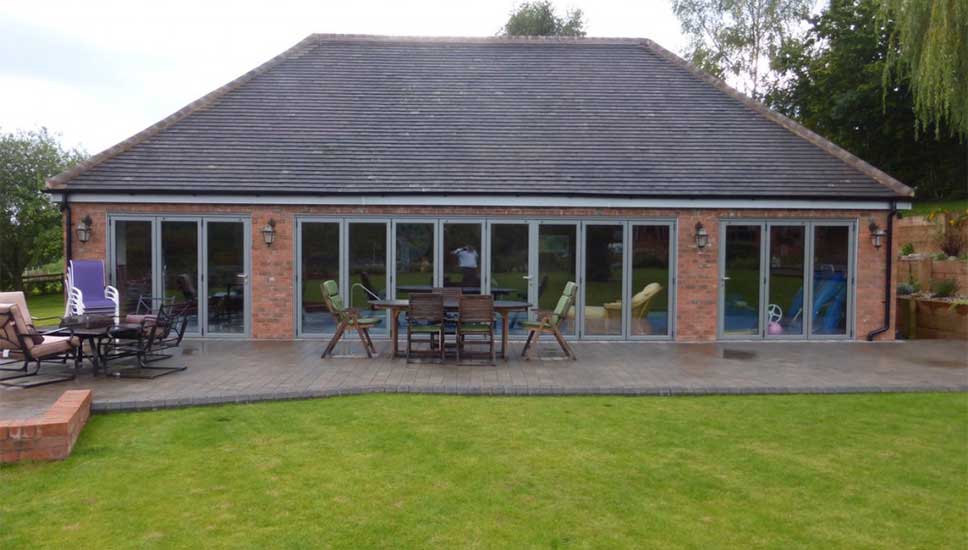 When you have a garden you cannot help but want to make the most of it when the weather is good.
The owners of this barn conversion near Ross-on-Wye will certainly get to do this as they now have these Slate Grey aluminium bi-folding doors.
To create any opening of their choice they just give the doors a gentle push to make the door leafs fold and glide open and expose their home to the gorgeous outdoors.
April – Lifestyle extension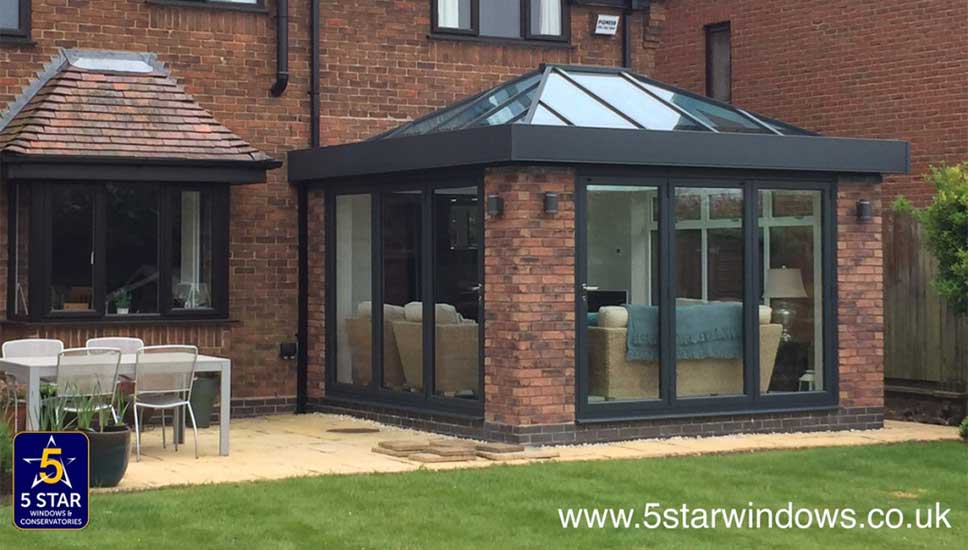 Improving not moving has become a growing trend, and why not if you feel a strong attachment to your home.
This quality lifestyle extension uses the Atlas skyroom which offers the benefits of slimline technology combined with visible elegance, outstanding strength and industry leading thermal performance.
Anthracite Grey Origin bi-folding doors are a key feature of the design and make the garden incredibly accessible.
May – Orangery with two roof lanterns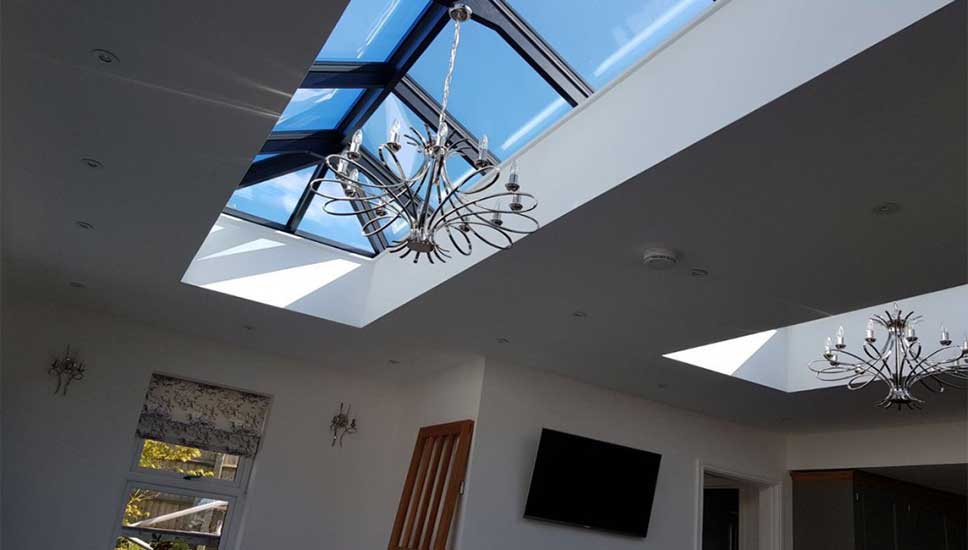 The roof lantern is an integral part of any orangery as it allows lots of natural light to enter into the space.
Another Stourbridge-based project, the owners of this newly constructed futuristic orangery recognised this and so decided to have not one, but two roof lanterns incorporated into the design.
Once again, Origin bi-folding doors are also included so that a quick escape into the garden can be made whenever the urge is there.
Why not follow in their footsteps
If you have been left awe-struck by any of these installations and fancy something similar for your own home, please contact us or visit either of our showrooms.