Remember that feeling you got the very first time you entered your new home? You will experience a similar sensation when you have a brand new home extension fitted and we highly recommend the Edwardian variation.
Edwardian conservatories have been around for hundreds of years, but they still retain their popularity as they have all the trademark features that you would expect of a conservatory. This particular one has been finished in a pristine white colour and contains elegant crafted French doors to provide an entrance into the garden.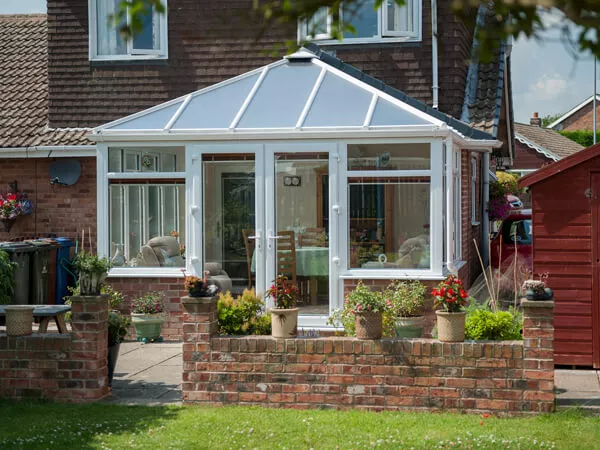 Protecting the conservatory from the elements is a polycarbonate roof that will deflect away harmful UV rays and any adverse weather. So that glare doesn't hinder the eyesight of those inside, some blinds have been carefully installed, and for privacy purposes, frosted patterned glass has been integrated to prevent prying eyes from getting a clear perspective of what's going on inside.
Anyone who dares to attempt to break the French doors will be left disappointed as they contain an ABS snap secure euro cylinder lock which is near unbreakable. The pride that the householder had for their abode has been restored; a similar pride that our installers felt once the job had been completed.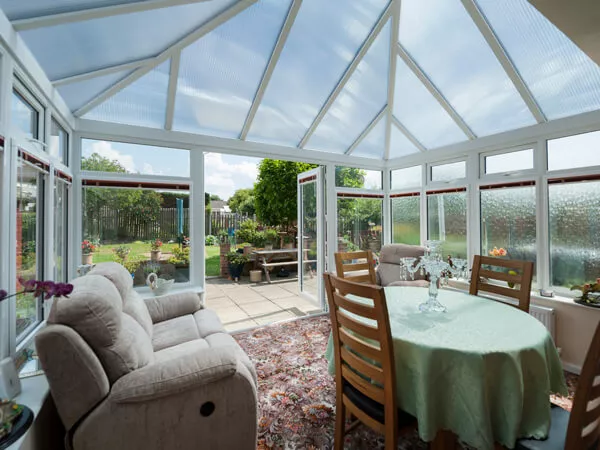 NEED MORE INSPIRATION? REQUEST A BROCHURE
Simply select the brochure(s) you would like to browse, fill in your details, and then click 'Download'.
Step 1 - Please select the brochure(s) you would like:
INSPIRED? GET A FREE QUOTE TODAY!
Simply fill in your details for your free, no obligation quotation, and click "Get Quote"
Want to speak with an Advisor? Give us a call on 01562 60800
Our friendly team will be pleased to help with any questions you may have.