You can see elements of three classic conservatory types in one design with the T-Shaped conservatory – Victorian, Edwardian and Gable. Combining the stand-out features of these timeless offerings gives the T-Shape design an unparalleled amount of spaciousness, partly due to the multi-faceted frontage.
Tailor-made for the more expansive residence, the T-Shape conservatory has a seated area right in the heart of the structure which seemingly projects forward into the garden area. Having two rooms in one has made it possible to include both a spacious dining table and good sized snooker table.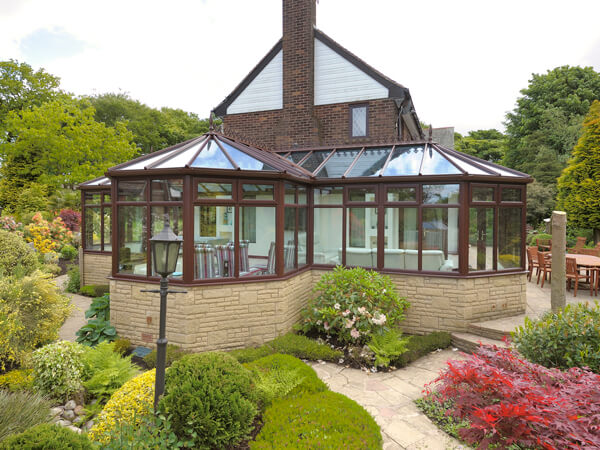 When you see the mahogany woodgrain in person you will scarcely believe that the structure hasn't been constructed from timber, but we promise you it hasn't! Despite of the brickwork base, prolonged pieces of glass has been inserted into the framework to entice light inwards and prevent the interior from ever feeling dull and lifeless.
At the end of each day, what better way to unwind than with cue in hand or sunken into the sofa as the artificial light provided by the shades above the snooker table and candle-armed lights reverberates around the space. One of the final finishing touches was the French door installation so that all that greenery around the conservatory can be embraced.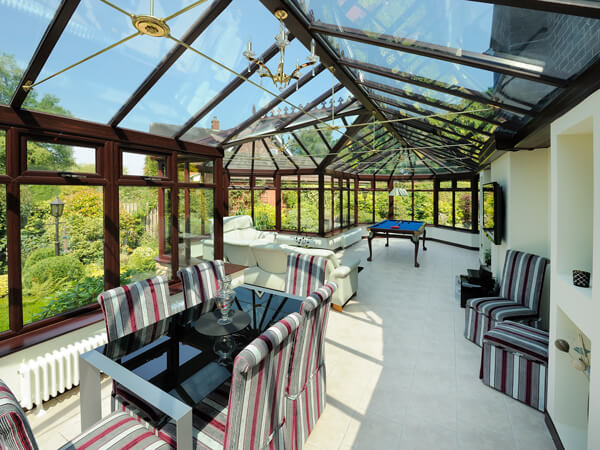 NEED MORE INSPIRATION? REQUEST A BROCHURE
Simply select the brochure(s) you would like to browse, fill in your details, and then click 'Download'.
Step 1 - Please select the brochure(s) you would like:
INSPIRED? GET A FREE QUOTE TODAY!
Simply fill in your details for your free, no obligation quotation, and click "Get Quote"
Want to speak with an Advisor? Give us a call on 01562 60800
Our friendly team will be pleased to help with any questions you may have.