Does Your Home Offer A Good Standard Of Energy Efficiency?
Even the best psychic in the world would struggle to predict what the weather will be like in the UK this winter as we have such an unpredictable climate. 
It's always best to prepare for the worst, and in particular, to get your home ready for it, and the preparation should start right now, before it's too late. That means making it energy efficient, if it isn't already. 
The current thermal efficiency rating of your home will be displayed on your Energy Performance Certificate (EPC) – it will be energy rated from A (very efficient) to G (very inefficient). 
You should have a copy of an EPC as it is a required document when selling or renting out a property. 
If you don't appear to have an EPC, you need to arrange for an accredited Domestic Energy Assessor to do an energy audit of your house so that an EPC can be produced for it. Click here to get that organised. 
Having an A-rated home, or close to it, will keep you warm and save you loads of money. Most A-rated properties include these energy efficient products:
Double or triple glazed windows and doors
You can lose a lot of heat from your home through your windows and doors if they are single glazed with wooden frames – up to 25% of the warmth produced by your boiler can be lost. 
If you upgrade to double or triple glazed windows and doors, you will lose barely any heat through them. A brand-new set of Envisage flush casement windows from 5 Star will make for a great window replacement as they offer a very high standard of thermal efficiency and can meet Secured by Design requirements, which very few replacement window systems do. Our replacement doors are good energy-savers too. 
Once installed, modern windows and doors can save you around £170 each year on energy bills.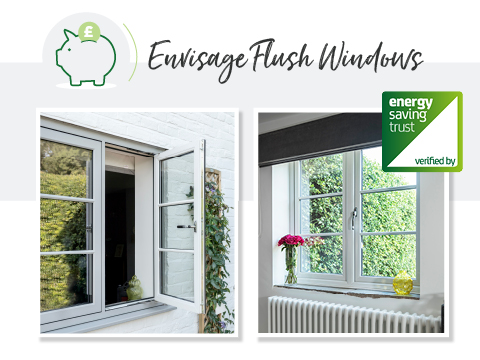 Eco-friendly boiler
All boilers sold in the UK are labelled with an ErP (Energy related Products Directive) rating so that you can identify the level of energy efficiency they provide – most new boilers are A-rated. 
Your old existing boiler is unlikely to have the best ErP rating and there's a far higher chance of it breaking down at some point than one of the newer models around. 
Buying an A-rated boiler won't be a cheap investment, but the Energy Saving Trust estimates you could save £340 a year when you have one installed.
Loft insulation
An uninsulated home can lose around a quarter of the heat produced inside it through its roof. To put a stop to this issue, add loft insulation to your loft, attic or roof space.
You can buy decent loft insulation cheaply and it can be easy enough to fit. But if you want a professional to install it, find an approved insulation installer in your area on the National Insulation Association website. 
It has been known to last for over 40 years, so you can get a fantastic return from it in terms of energy cost savings.
Interested in the Envisage range? Take that interest further and get a FREE no obligation quote for them from 5 Star.