Utilise Your Conservatory/Orangery This Christmas
Your conservatory or orangery aren't just useful for those warm summer days. They can be transformed into a Christmas wonderland. Just imagine it; the view of the snow falling in the garden, drinking mulled wine and hot chocolate with Christmas lights surrounding you. What could possibly be better?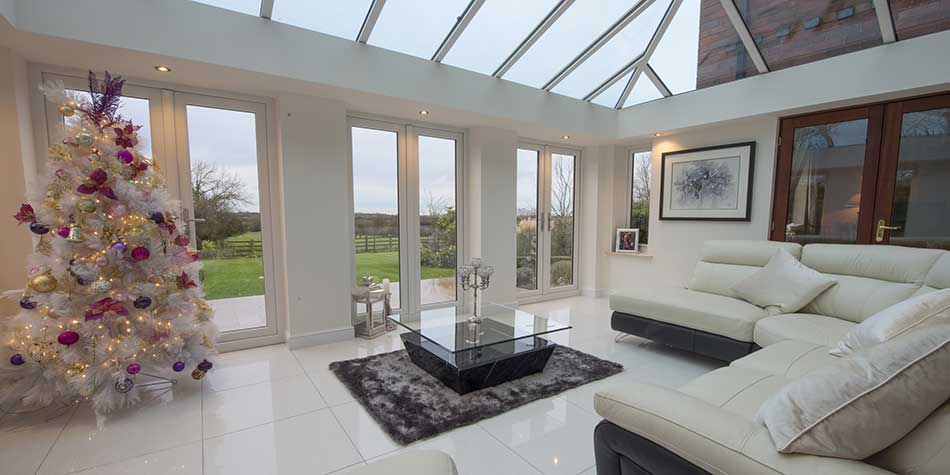 Most conservatories and orangeries are big enough to accommodate multiple diners, which makes them the ideal setting for your festive family dinner.
However, your conservatory or orangery can be utilised for a lot more. Here's our festive tips to utilise your conservatory or orangery this Christmas:
Light up your room with sparkly festive lights
Nothing is more festive than some colourful Christmas lights strung up around your tree, or on the walls. Fairy lights give off a warm and homey feeling, so why don't you invest in some to brighten up the area, and bring the spirit of Christmas to your household.
Surround yourself with the aroma of Christmas
There are many smells associated with Christmas or Winter; mulled wine, a real Christmas tree, cinnamon, spiced apples and gingerbread. Why don't you buy some scented home accessories and spread the aroma of your favourite smell across your conservatory or orangery. Make it feel like home, with that added extra Christmas spirit.  
Get decorative with a Christmas tree
A Christmas tree is an obvious decoration this time of year. Even if you have your main Christmas tree in your living room, a smaller supplement in your conservatory or orangery wouldn't be frowned upon, it's practically encouraged! It's the perfect way to get the family together and in the spirit.
Don't fret if you haven't got your conservatory installed yet, visit your local showroom to view our plethora of designs to create inspiration.